Who
are
these guys?
Well, a quick look at the first few cards below tell me that a lot of them are simply younger (
much
younger) versions of some ballplayers we're already pretty darn familiar with.
We're just more familiar with them when they were old enough to vote, or drive, or shave.
But, heck, even Don Zimmer must have been a rookie once, right?

By definition, there's a rookie card of some sort out there for every grizzled veteran who ever played or managed.
Actually, one of my favorite kinds of cards are the playing-days ones of the

Harvey Kuehns, Red Schoendiensts, and Tommy LaSordas of the world.

I know those two people are related somehow, but I just can't put my finger on it …
So, here they are: the driver's license and high school yearbook photos (and some just plain weird looks) of some people you may already be familiar with …
You may know him as "Sparky" - and probably with some sideburns and a little grey hair too.
Yup, ol' Spark was up for a year in the bigs, with the Phillies in 1959. Interestingly, it wasn't just a cup of coffee. He was their starting second baseman, getting almost 500 at bats, but hitting only .217 with no dingers. Not sure why he was never given another chance. Pretty good manager I hear though.
Bob Gibson was one of the fiercest competitors ever to play the game. In my mind, I see him looking in for the sign, glaring at the batter as if he meant to take his head off with the very next pitch.
This is not that. I realize this is his rookie card ('59), but he sure does look like the neighborhood kid who cuts your lawn or is in the local Scout troop.
Don't worry. That expression will change.
I always though of Sandy Koufax as one of the sharpest-looking guys to ever play the game. It's nice to know that even he was a gangly teenager once. Yup, this is his rookie card too.
Koufax was always one of my personal favorites. Super classy guy and, man, could he bring it.
Another look at the master.
Looks like Tommy enjoyed the pasta even back then. Or is that just baby fat? How old is he here? Thirteen?
Many people may not realize it, but LaSorda actually made it to the majors for a couple of years. Lifetime, he pitched 58 innings, gave up 56 walks in those 58 innings, had an ERA of 6.48, and never won a game. I don't believe that's how he made into the Hall of Fame however.
Warren Spahn wasn't always the best looker in the bunch. Is there a picture out there, though, that does a better job focusing a spotlight more on all his worst features? – jug ears, big nose, long face, bushy eyebrows. At least he probably had his hair back then.
Another one of my favorite players. His black ink numbers are off the charts. He comes in as the #4 pitcher of all time, right behind two other under-appreciated favorites, Walter Johnson and Lefty Grove.
Here's another great look at ol' Hooks.
Just so we're not all fresh-faced youngsters, this is one of Hall of Famer Larry Doby at the end of his career, looking more than a little peeved. Do you think some kids just stepped on his lawn or what?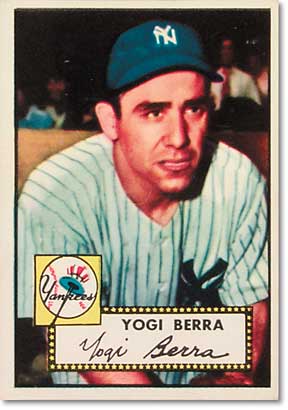 We all knew Yogi was ugly. Usually, though, he looks ugly in a cute, cuddly kind of way (that trademark goofy grin helps a lot, I'm sure).
This one, though, is a little scary. He looks angry. Or perhaps a little like a caveman. I know, he's an angry caveman!
Did it matter? I don't think so. As Berra so aptly put it, "So I'm ugly. So what? I never saw anyone hit with his face." (Brainy Quotes)
And here's a whole post on this one ugly dude.
Not sure what this is all about. I do have a theory though.
The '53 Topps cards all started out as painted portraits. My guess is the painter of this one may not have been asked back. Somehow, he's managed to turn Whitey Ford into an illustration from a kids' book. The puffiness, the winsome look … Aww! Look, it's Whitey the Friendly Bear™!
Interested in seeing a card of Whitey playing Hamlet in the graveyard scene?
Whoa! Looks like they did give that guy another chance. I'm pretty sure "Gus" never looked so pretty in his entire life.
Always had a soft spot for this guy. Early Wynn played for 25 years in the majors, won 300, and made it into the Hall, but always looked like some good ol' boy at the local bait shop or feed store. In other words, a lot different from this card.
By the way, Early is the guy who said he'd hit his own mother if she were crowding the plate (Baseball Almanac).
And here's Early looking, uh ... really weird.
"Oh my God! What is that awful smell? Do you smell it? Holy crap! That is disgusting!"
Actually, I'm not totally sure what's going on here. The photographer may have simply asked Brooks to look as stupid as he possibly could.
Brooks Robinson may have been my first true baseball hero. My family was living in Baltimore at the time, and the O's were unbelievable back then. Brooksie, Frank, Boog, Palmer, Cuellar, McNally … First game I ever saw was at old Memorial Stadium. I was maybe five, and I still remember every detail to this day.
Of course, I have more of Brooks - here, here, and here.
Hey, check out these unlikely looking stars from the '60s and the 70s.