Between them, Topps and Bowman produced over 3600 cards during the 1950s. Chances are at least a few of those were going to turn out turkeys.
And guess what improves the chances of generating some goofiness almost 23%*
? Just ask somebody to pose.
I had kids on my T-ball team who looked less goofy than Mike here.
Mike Sandlock was a super-sub type who played catcher, second, short, and third. He played five seasons for three teams. His nickname was "the Commuter." I kid you not.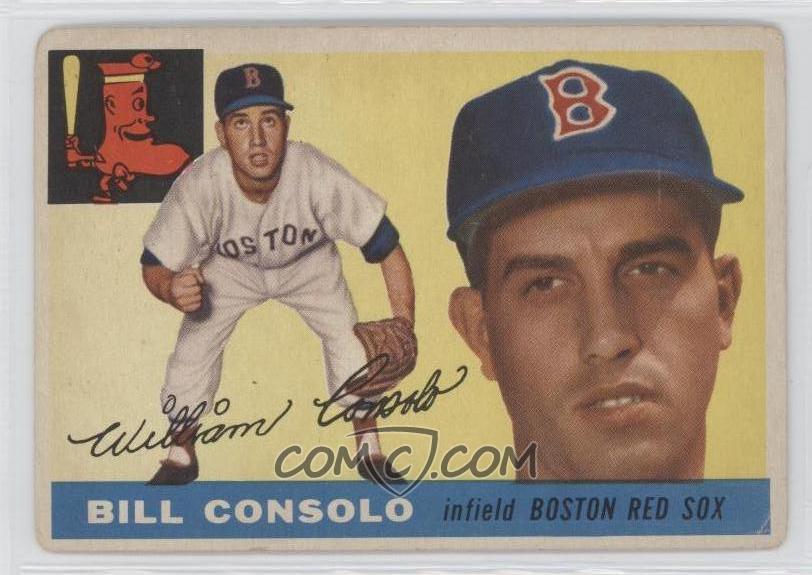 Hey, it's Mike Sandlock again. Hold on a minute. Wait, no, we got somebody else here.
Billy Consolo was another one of those bonus babies who just didn't work out. On the Red Sox bench at age 18, he played another nine years, without ever getting more than 250 at bats in any one season. A little short, a little second, a little third - it just never added up. His main claim to fame - at least in this blog - is his being traded, with Murray Wall, for Herb Plews and Dick Hyde.
Thurman looks like he's about to hit one out of the park – either that or swing violently at a change-up, miss the ball by a foot, and end up on his keister.
Thurman Tucker's nickname was Joe E., as he looked somewhat like Joe E. Brown. That was not a compliment, by the way.
Positively uncanny. All this needs is the glasses.
But you do see what I mean about the compliment, don't you?
Earl was a lefty, so this is his follow through. Talk about violent swings. I'm surprised his glasses and hat didn't fly off.
Earl Torgeson was a pretty decent hitter who simply didn't look like a ballplayer. This shot, in fact, makes him look rather athletic. He was such a winner, I decided to give him his very own post.
The author, on the courts – a case in point when it comes to posing.
Check out next week's post, where some guys prove that all they have to do is look at the camera to look goofy. And here's some '60s and some '70s goofiness.
* Totally bogus statistic, but it sure sounds good, doesn't it?