Goofy-looking guys? We got 'em.
Unlike the guys in my
last post
, though, these guys didn't have to pose to look goofy.

All they had to do was just look at the camera.
*
We all know Joe Garagiola from his long tenure as a comic announcer.

Not as many people realize, though, that he's enshrined in Cooperstown (alright, in the announcer, not the player, wing).

You'd never know he was in the hall of fame for anything, though, from this shot.
By the way, wasn't this one of the lamest designs ever?

It looks like the signature was simply placed onto the card with a piece of tape.
I think this is Luis Aloma (his signature is worse than mine).

He was a reliever for the White Sox for four years, finishing with an incredible 18-3 record.

I have no idea whatsoever why he seems so terribly perplexed here.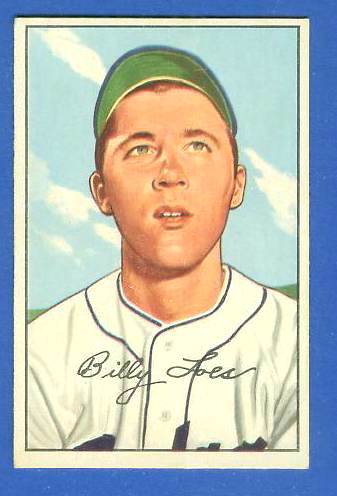 Billy Loes was a classic Bum, pitching for Brooklyn in the prime years between 1950 and 1956.

He had a reputation as a prime-time flake.
Not sure what Billy's staring at here.

I think I've seen this pose before in the front row at the local topless bar though.
And here's Billy in an action shot.
*
Paul Giel was a baseball and football star, and an All-American in both sports.

He was particularly gifted in football, where he was a star QB for Minnesota, came in second in voting for the Heisman, and is in the College Football Hall of Fame.

This shot, though, makes Giel look like the guy on the barstool next to you at the local tavern.
*
"Hey, hey, …

Guess what I got in my glove?"
Poor Carlton Willey – the teeth, the goofy expression, the name …

Oh, he also was a Yankee fan who happened to

live his entire life in tiny Cherryfield, ME:
"While you may be hard pressed to find anyone who knew Carlton Willey that didn't love him, his close friends say, nobody's perfect.

'Unfortunately for living in Cherryfield he was a Yankees fan,' says Joanne Willey, 'and those of us who belong in Red Sox nation didn't forgive him for that.'"

(WABI obit)