For a couple of years ('54 through '56, as well as '60 and '63), Topps treated you to two views of your baseball heroes. One was the classic head shot.
The other was a little full-length figure off to the side. This mini-me typically came in one of several basic poses: batting stance, wind up, etc.
It's very easy to look at the head shot and totally ignore the little guy. If you do so, though, you may be missing out on some pretty interesting action.
The 1954 set featured a disembodied Verne Troyer floating around on a stark single-color background (which included plenty of unattractive blues and sickly greens). Take it away, mini-me's …
*

"I am so depressed. I can't seem to get anyone out. They're going to send me back to the minors, I just know it."
The back of this card says that "versatile Jim's a school teacher in the offseason" and "is also quite a hand with the golf clubs," but that "baseball comes first." But of course it does.
*
Managers and coaches simply didn't have the same great poses that players did. Well, I guess you could always try the latest dance moves, like Johnny here.
Johnny (I don't think anyone called him John) Riddle was a baseball lifer. He played or coached from 1927 to 1959. He had seven seasons in the majors as a backup catcher, scattering those seven seasons over 19 years and getting in less than 100 games total.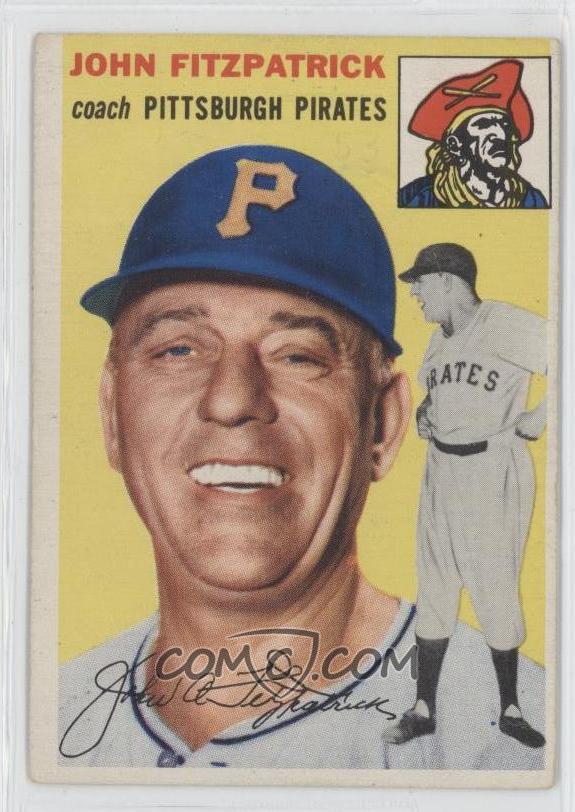 *
Looks like this guy's just lost it. He seems to be berating himself – and laughing his head off at the same time.
The only way John Fitzpatrick could get to the majors was as a coach. He appeared in almost 2000 games over 21 seasons as a minor league player, never once getting that cup of coffee in the Show. His nicknames were "Foghorn" and "Eagle Beak."
*
Here, Fred's mini-me is taking a little rest on his shoulder. It gets tiring being a major league manager.
Another lifer, Fred Haney played, managed, coached, broadcast, or was a GM for 50 years. A pretty non-descript third baseman in the '20s, Fred started his managerial career in much the same vein, piloting the Browns in the late '40s and the Pirates in the early '50s. Things turned around when he went to Milwaukee, though. There, he led the Braves to two World Series, winning one and losing one to the dreaded Yankees.
*
Joe Black liked to go around with his mini-me perched on his shoulder. It was like a little ventriloquist's dummy. "Hey, mini-me!" "Hey, Joe."
One of the first real modern relievers, Joe moved over from the Negro Leagues to become the NL Rookie of the Year in 1952.
Joe showed that there is life after baseball. He was an executive for a Fortune 500 company, had a column in Ebony, was a guest actor on the Cosby Show, and wrote an autobiography. The MVP award for the Arizona Fall League is named for him.
*
"Help, I'm falling off …" Going around with your mini-me sitting on your shoulder wasn't always the safest idea. And that's a long way down when your big guy is 6'3".
Other than his totally awesome name, Thornton Kipper really didn't leave much of a mark. He was up for three years with the Phillies, winning three games during that time and posting a 5.07 ERA.
*
"Looks like you gotta lotta wax in there, Ted. A big hunk just dropped into my glove."
Nope, this is not the Unabomber. That's Ted Kaczynski. This is Ted Kazanski. Totally different guy. Possibly a better hitter too.
*
"Fine, then, mini-me, you just dig away."
Jim Rivera was a pretty decent outfielder with the ChiSox. He led the AL in steals in 1955, and came in second six times (curse you, Luis Aparicio!).
His nickname was "Jungle Jim," purportedly due to:
"His unorthodox playing style"

"His highly extroverted personality"

"The way [he] ran the bases head first"
Nope, none of these make any sense to me either.
*
Whoa! Looks like Ray's mini-me has had enough. He's thrust a large ice pick into Ray's ear and pulled down, turning Ray into a lobotomized zombie.
Or at least that what it looks like to me. Could be something totally different. I dunno.
Ray Blade's main claim to fame seemed to be instituting a no-drinking policy on the Cardinals. Surprisingly, it didn't go over well. Perhaps that's what had Ray's mini-me all upset.
* - author has this card
Check out the next post for 1955's little guys.