Even more of 'em … The 1956 set has a real action shot for most cards. That was a first for Topps. (Here are the 54 and 55 mini-me's, if you missed 'em.)
Whoa, Rocky! Take it easy there, pardner. That's way too much hustle for one baseball card. Let Pete Rose take care of that kind of stuff.
You've met Rocky Bridges before. I just gotta wonder what happened to the chaw in this picture though. Hope he didn't swallow it.
Not sure what's happening with Nellie. Is he fielding? Running? Attempting to fly?
You've met Nellie before too, and will probably see him a bunch more. No boring cards with Nellie.
Another spazz-out, from another Hall of Famer.
Little Louie Aparicio is in the Hall, mostly for his defense, which includes nine Gold Gloves. He was also Rookie of the Year and a ten-time All-Star. His main offensive claim to fame is leading the AL in steals for nine straight years.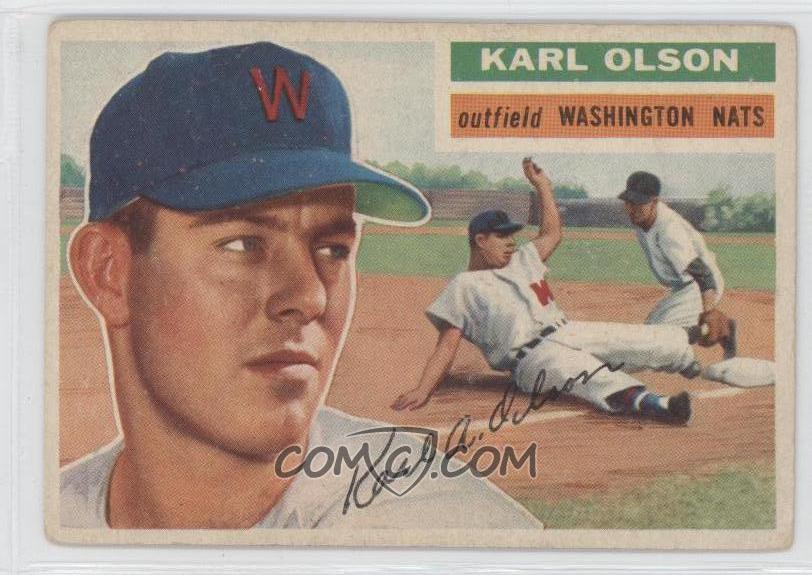 Karl was probably known as the "The Big Swede" or "The Swedish Galoot" or something like that. Is it just me, or does he look about twice the size of the first baseman?
Olson's size (6'3" and 205 lbs.) resulted in only six dingers over a six-year career. Incredibly detailed bio right here.
Looks like Jim here is doing his best to channel his inner Ty Cobb. Take that! Unh! And that!
One of the best defensive catchers of the '50s, Jim Hegan was the guy who caught Feller, Lemon, Score, and Garcia. He was an All-Star five times, caught six 20-game winners, and was behind the plate for 121 shutouts.
*
Did they just capture Ken in the middle of booting one? Ouch! Not what I'd want to have on my card.
Pretty darn good player, Ken Boyer was the '64 MVP and the second third baseman to hit over 250 dingers, and had his number retired by the Redbirds. He died heartbreakingly young of lung cancer, at age 51.
I went to a baseball game, and a wrestling match broke out.
I'm not sure Red Schoendienst would have gotten into the Hall on either his playing or managing career alone. But put them together, and you've got a ticket to Cooperstown. As of 2012, he has worn a major league uniform for 66 consecutive years. He also had a great takedown move, and could put you in a cradle before you even knew what had happened.
*
"Look at me! I'm a bird! I can fly! Squawk, squawk!"
Mayo Smith may be the only major leaguer ever named after a condiment. Searches on baseball-reference.com for "ketchup," "mustard," and "relish" failed to come up with anything.
That's one huge Q-Tip. This might tickle a little, Jose.
Sandy Valparaiso was a … Excuse me ... Um, Sandy Valpolicella …. No, I mean … Sandy Valdosta … Correction … Sandy Velveeta …Ah, forget it.
* - author has this card
Topps also had some mini-me's in 1960 and 1963. You can see some of them right here.